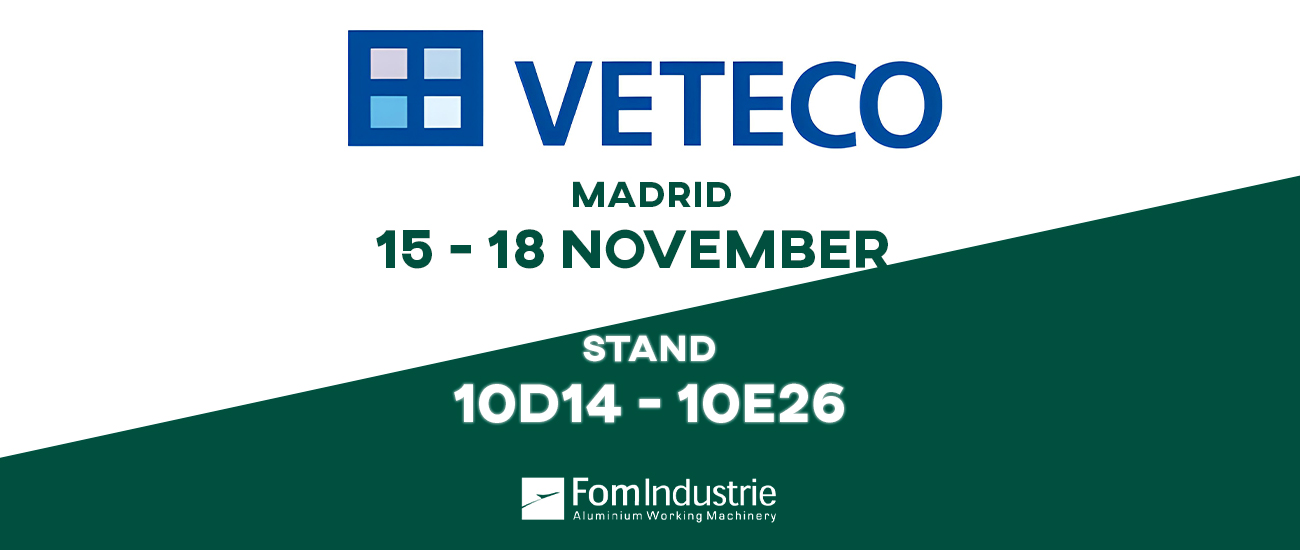 Fom Industrie @ Veteco 2022
Fom Industrie will be in Madrid from the 15th to the 18th of November for this long-awaited edition of Veteco.
Veteco is one of the main events in Europe for the windows, façades and solar protection sectors. This edition will play host to over 330 businesses from 76 countries worldwide who have chosen this prestigious international showcase.
We hope to see you at stands 10D14 and 10E26 where we will be presenting series 6 of the FMC machining centres range. Shown for the first time, FMC 650 is a machining centre dedicated to industrial applications, for example the automotive and aeronautical sectors, to mention just a few, without forgetting the continuous façade and window sectors.
Products on display:
Machining Centres: FMC650, FMC 440, FMC 230, FMC 120
Double-head sawing machines: blitz 65, blitz 550, blitz 500
Double-head crimping machine: ever theta
Lifting and moving equipment: portique
In the ample 550 square metre exhibition space you will find a selection of products from:
Profteq: PVC window profile processing machines and systems
Comall: punches, benches and carriages for movement around the workshop and thermal break assembly machines.
FST: demo area for the Prof2 software, the simple solution for doors, windows and continuous façades.
Industry 4.0
A LOLA workstation will be at your disposal. LOLA is the IioT web platform used for monitoring and diagnostics of Fom Industrie machine tools.