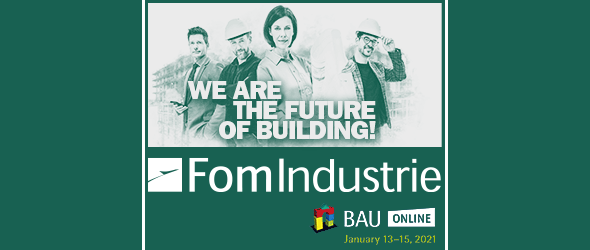 BAU ONLINE 2021
From January 13th to January 15th, Fom Industrie will be taking part in BAU 2021, which will take place exclusively online.
While on the one hand the spread of Covid-19 has made the organisation of trade fairs impossible, on the other there is still the need for professional exchanges and connection between suppliers, partners and customer.
We believe that BAU online can offer a valid platform on which to present our products and organise profitable one-to-one meetings.
Fom Industrie will therefore attend with a virtual stand, in which our sales managers and technical staff will be available to provide you with assistance and advice.
It will easily be possible to access the official Fom Industrie youtube channel, the sales material relating to our wide range of machines and keep up to date on the continual technical improvements made to our systems.
HIGHLIGHTS
LMX 650:  a highly automated system that is able to produce machined and cut aluminium elements using a multispindle machining centre and a sawing machine driven on 4 controlled axes. The processing unit tooled up with max 18 electrospindles and the cutting unit with infinite 360° blade rotation produce a continuous flow of processed and cut to measure elements. The additional machining module XMU carries out end milling (with blade, mill or mill units), boring and head tapping, as well as 45° and 135° inclined cuts, guaranteeing maximum flexibility for numerous applications in door and window manufacturing and industrial applications. 6 different variants are available, which can be configured in terms of length of material loading/unloading magazines and bar feed direction.
FMC 340: machining centre with 4 controlled axes, capable of carrying out boring and milling operations on aluminium or steel profiles (max. thickness 3 mm). The following functions can be activated on request: "machining with interpolating axes" (3D Custom Milling Module), "multi-piece machining", with the ability to select different vice/stop configurations.
BLITZ 65 :Two-head sawing machine with motor driven movement of the mobile head and electronically controlled head tilting. An iconic Fom Industrie product that over the years has maintained and implemented precision and power when cutting any type of profile. Multiple construction solutions keep the structure rigid during cutting, ensuring stability, while the evolution in design to comply with safety regulations adds options that facilitate machine cleaning.
INDUSTRY 4.0
LOLA ( Log On Live Automation) the IOT web platform created by Fom Industrie to monitor productivity, control efficiency and speed up diagnostics.