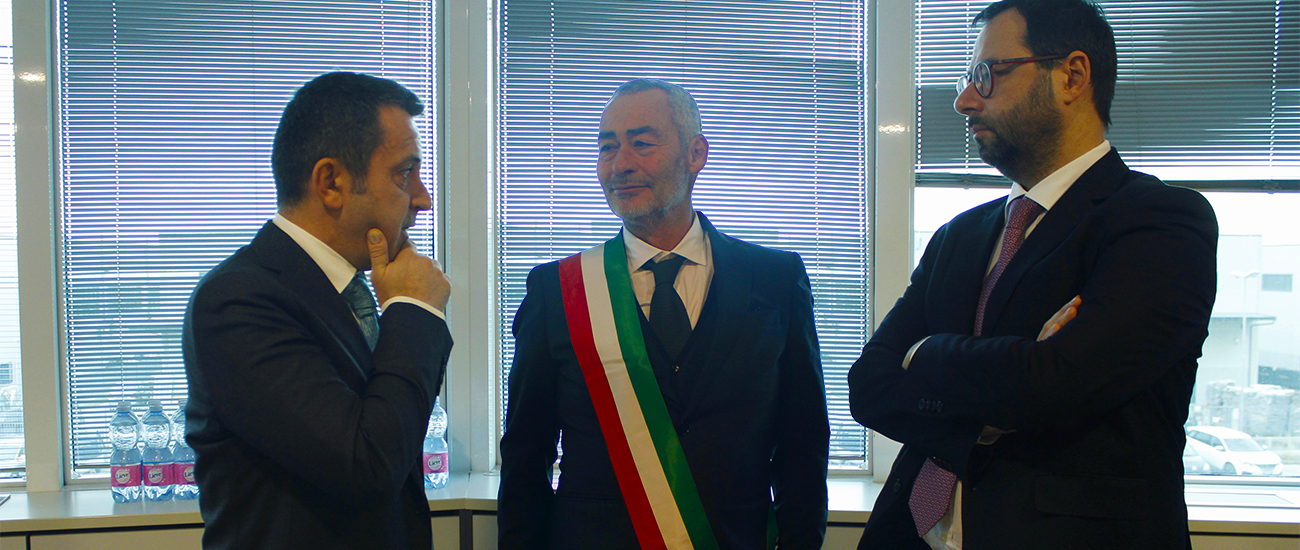 Visit by Stefano Patuanelli, Minister for Economic Development
Monday, 20 January 2019
9:00, visit to Fom Industrie, 85 Via Mercadante, Cattolica
An organic plan for industrial development is crucially important to relaunching Italy's competitiveness and encouraging growth.
This is the background to the visit to Fom Industrie's HQ by the Minister for Economic Development, Stefano Patuanelli, Senator Croatti and the mayor of Cattolica, Mariano Gennari. Fom Industrie's Cattolica plant covers an area of around 20,000 m2, with 17,000 m2 occupied by mechanical operations, production and prototyping.
The Minister met with Alessandro Pettinari, CEO of Fom Industrie, the company's founding shareholders Gianfranco Pettinari, Franco Sparaventi, Nello Andreani and Lorenzo Paci, and top management for a valuable exchange of ideas on the subject of promoting Italian industry and the need for targeted measures to encourage growth.
Alessandro Pettinari emphasised the company's constant commitment to the local area, which will soon be confirmed by an expansion of the Cattolica plant. The company, Pettinari pointed out, has always invested in research in order to develop advanced solutions for today's global market. It is essential to have the right tools for accelerating production and improving efficiency. This is why Fom Industrie is focused on human resources and on finding young talent to develop and employ in design, research and development.
******
Fom Industrie was formed in 1972 and is a leader in cutting and processing machines for extruded aluminium profiles. Around 300 people work at the Cattolica site. The company offers one of the most extensive ranges of high-tech machine tools on the market today. Fom's offering ranges from automatic cutting and machining lines to 3, 4 and 5 axis work centres, thermal cutting lines, single and double head sawing machines and conventional machines.
With a turnover of nearly 170 million euros and over 500 people employed globally, the Fom Group is made up of 9 manufacturing companies, 9 sales subsidiaries around the world and 55 official distributors.