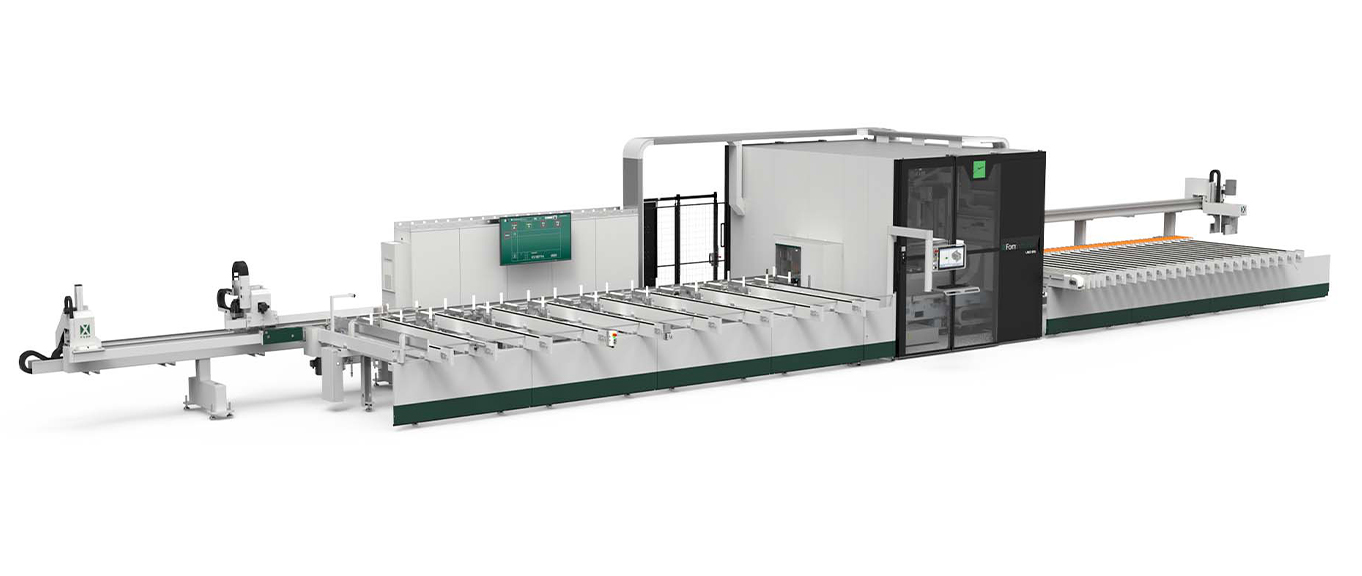 LMX2 650: machining and cutting system consisting of multispindle machining unit with 5 controlled axes and cutting unit with Ø 650 blade
LMX2 650: machining and cutting system consisting of multispindle machining unit with 5 controlled axes and cutting unit with Ø 650 blade
LMX2 is the evolution of Fom Industrie's top of the range, the only line on the market that is standardised to carry out pyramid cuts and machining operations on the five surfaces of the profile using the same machining unit.
The robust, high performance LMX2 650 is the high automation system to accurately carry out machining operations on profiles with large sizes and a variety of shapes.
The three separete units, milling, drilling and cutting provide extraordinary flexibility as they not only give a single solution to the various production needs but they give the best possible solution to each particular need.
MX2 is able to machine continuously over multiple shifts, with minimum operator interaction. The line is actually able to change format automatically thanks to its 50 drive axes while the software can support the operator in the execution of the remaining manual tasks.
LMX2 responds to the increasingly demanding automation needs of the industrial market and it can be integrated with both every company's operation system and machines and plants already present in the workshop.
Highlights
• FU unit: 5 axis machining unit capable of rotating with respect to 2 axes C and D
• 22 kW, 24,000 rpm electrospindle
• 32 location magazine
• 2 complementary cutting units. One with a 650 mm blade for vertical cuts and the other with 500 mm blade for pyramid/front cuts.
• X PUSH, automatic gripper change to switch from single profile cutting to cutting of profile packs. – PATENTED
• X PULL, extraction gripper with integrated suction. The gripper encourages rational filling of the unloading magazine, increasing working autonomy. PATENT PENDING