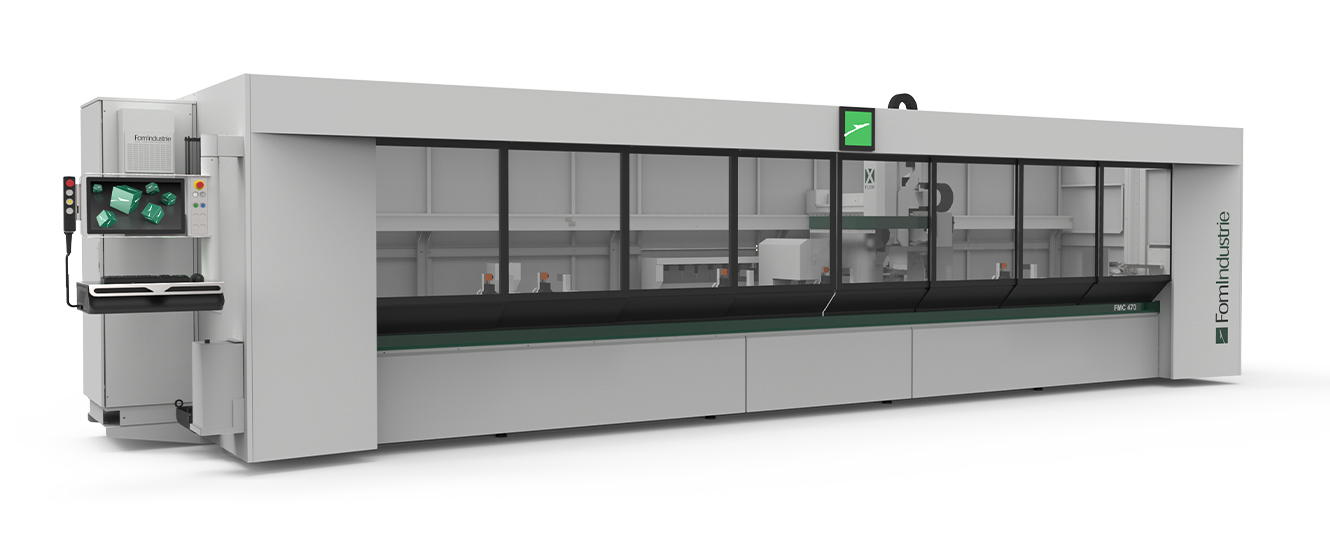 FMC 470
FMC 470 is a fully automated processing centre with 4 interpolating axes for the machining of aluminium profiles with a cross section of 250×270 mm and steel tubes up to 3 mm thick.
A 7kw, liquid-cooled electrospindle with a maximum rotation speed pf 20000 rpm allows the production of custom machined and milled elements. A 11kw electrospindle is available on demand.
The ergonomic lines of the new Fom protective casing, already fitted to more recent Blitz double head sawing machines, ensure excellent visibility during machining, while the illuminated logo signals the machine's status at a glance.
The machining centre distinguishes itself in the technological innovation of its patented components, such as the base which shape is optimized to collect chips and waste and the exclusive X-FLOW dynamic tool lubrication system. It is also possible to add up to 3 stops (2 automatic, 1 fixed) to machine simultaneous 4 bars (5 bars if matched with X-PAL)
The standard tool magazine on the head with a capacity of 9 tools (an additional 8 tools magazine is available on demand) ensures swiftness of execution.
On demand a bar length machining devise is also available to detect the length of the profiles and position the machining operations accurately.