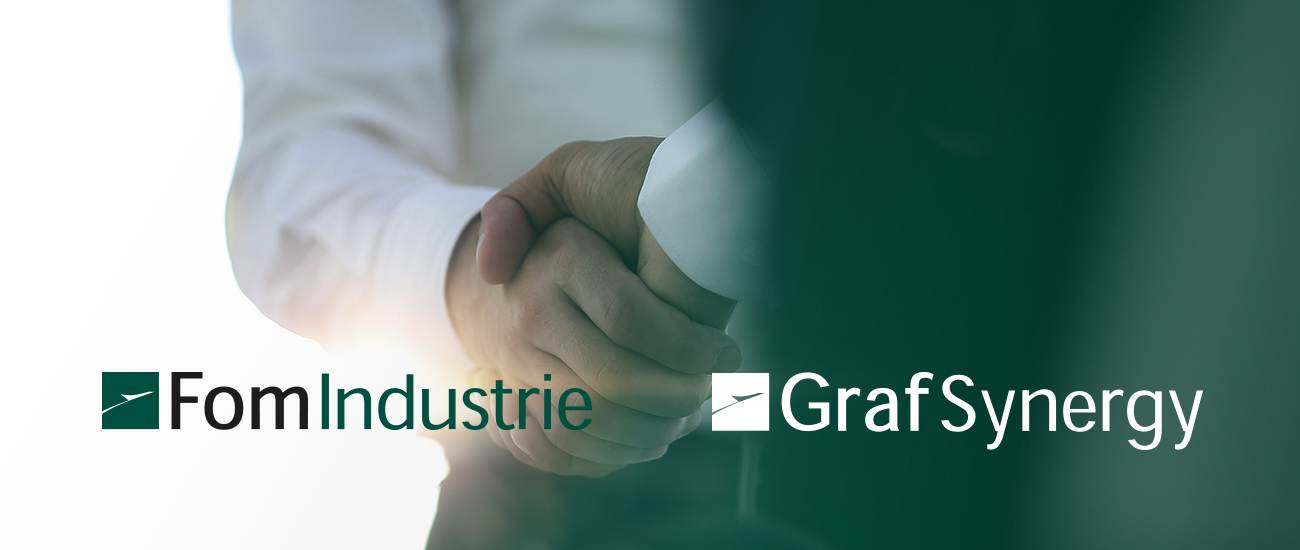 Agreement signed between Fom Industrie srl and Graf Synergy
Cattolica 1st December 2016: Fom Industrie srl a leading manufacturer of aluminum working machinery acquired today shares of Graf Synergy from Nonantola, a company specializing in PVC tool machines manufacturing enhancing its position on the global market as the only Group to offer a full line of high technological products for AL and PVC doors and windows manufacturers.
FOM Group and Graf Synergy are able to deliver an outstanding and exhaustive range of high-end technological products such as AL automatic working cutting lines, AL thermal break lines, pneumatic punching machines, PVC cutting lines exploiting the V Perfect brand and software solutions for the whole production process management. The Fom-GS alliance will have the distinctive competitive advantage of offering complete range of tool machineries for aluminium and PVC including the V Perfect solution.
Alessandro Pettinari CEO of Fom Group and Gianfranco Ferranti CEO of GS together boast a turnover of 110 mil Eur, 500 direct employees, 100 of which based in their foreign branch.
A three-year business plan was launched in order to devise a joint growing strategy and set ambitious targets for the Group.
The agreement was reached with the cooperation of PWC, Studio Masella and Arkios Limited.
ABOUT Fom Industrie srl
Fom Industrie srl with headquarter in Cattolica, was born in 1972 from the entrepreneurial intuition of Mr. Gianfranco Pettinari and Mr. Franco Spraventi who shared the vision of high technical solutions applied to the market of windows and doors manufacturing. Mr. Nello Andreani and Lorenzo Paci joined the company after few years contributing heavily to his development. Today Fom Industrie srl is leading a growing group of 7 companies, with 10 branches and 35 dedicated dealers covering the global market.
ABOUT Graf Synergy
Graf Synergy is a young and dynamic company with 25 mil Euro turnover that in few years has been able to revolutionize the market of PVC thanks to the creation and ownership of the V Perfect technology.