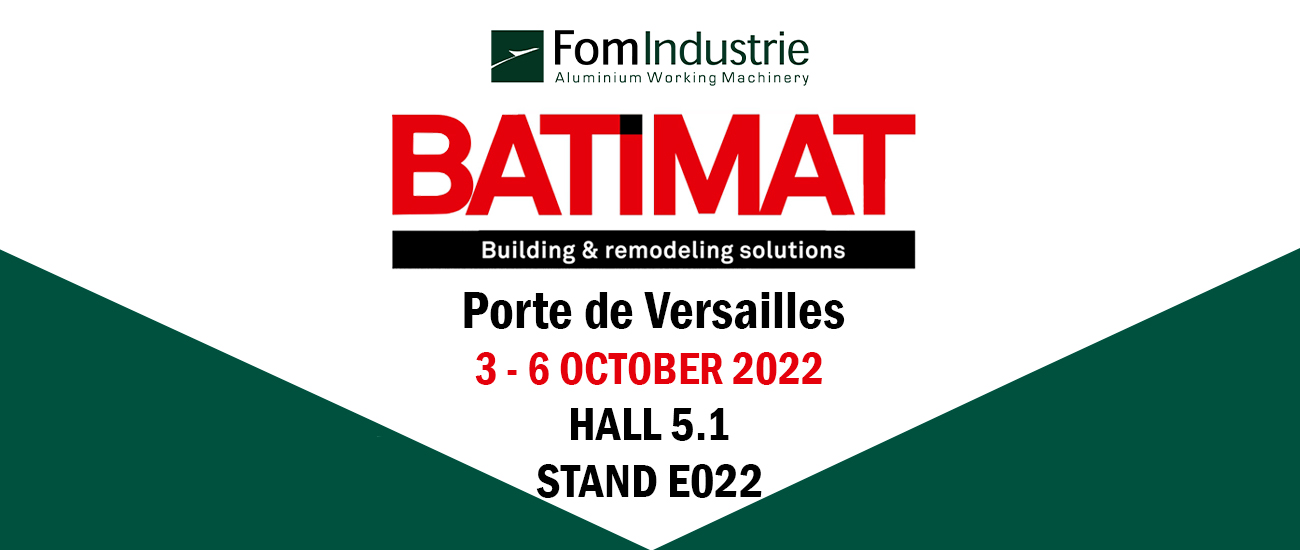 BATIMAT – the international exhibition for the construction sector
Fom Industrie looks forward to seeing you at Batimat, the reference international trade fair for the construction and building sector.
Le Mondial du Bâtiment will be opening its doors at Paris Expo Porte de Versailles from 3 to 6 October 2022. In line with all the great changes in the sector, this event is an unmissable appointment for all operators in the supply chain, for whom BATIMAT, IDÉOBAIN and INTERCLIMA provide valuable information helping them interpret current and future trends in the best possible way.
Fom Group has a central, prestigious position in hall number 5 with Fom Industrie (E022), Comall International (D014), Fom Software Technology (C021), Rim (E006) and Graf Synergy (E014).
The FMC series machining centres become the stars of the Fom Industrie display area, where there will be a genuine show room in which to view the latest Fom solutions for the building and other sectors, with the FST stand giving particular attention to software integration.
Comall international, a reference point in the design and production of punching machines, presents solutions for the assembly of thermal break profiles.
Rim, specialising in workshop lifting and handling equipment and crimping machines, offers Ever Theta, a 4-head machine with controlled tool positioning and manual loading/unloading table.
On the Graf stand, don't miss the SL4FF EVO, the first and only 4-head CNC welding machine that completely eliminates the welding bead from the angle, allowing PVC windows of superior aesthetic quality to be produced.
We look forward to greeting you and showing you the best in the sector. If you would like a free invitation, please contact us at: marketing@fomindustrie.com