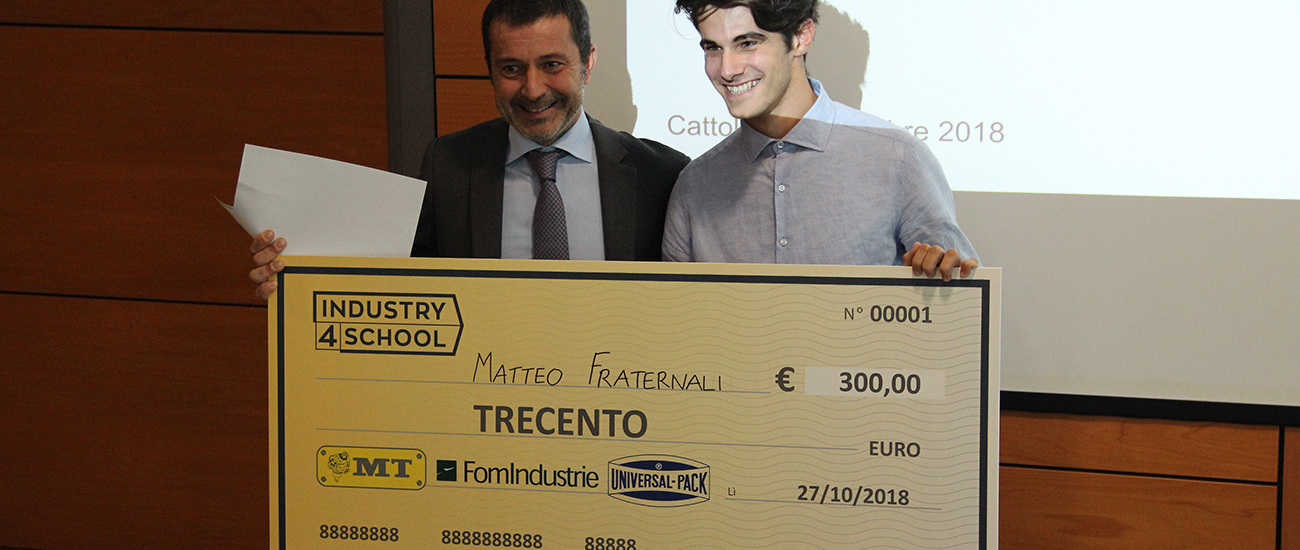 New Industry 4 School grants
Two new grants, worth a total of 4,500 euros, have been awarded to local students as part of the "Industry 4 School" project.
The winners are Massimiliano Frisoni of San Marino and Matteo Fraternali of Montefiore Conca.
Having earned their diplomas from Rimini's ITIS and Urbino's ITS schools respectively, the two went on to attend the free courses organised by the three companies involved in the project and are now both studying at university and doing extremely well. Frisoni is in his second year of Automation Engineering at Bologna University, while Fraternali has chosen Biomedical Engineering at Bologna University's Cesena campus.
The companies concerned, FOM Industrie, Universal Pack and MT, wished to contribute to the university costs of these two deserving young men. The three industrialists, Gianluca Marchetti, Alessandro Pettinari and Pietro Donati, all took part in the on-line presentation ceremony, along with the heads of the schools involved.
In his introduction, Gianluca Marchetti, the owner of MT Srl, emphasised the symbolic importance of the grants in demonstrating the companies' commitment to finding, developing and employing promising young talent locally. Alessandro Pettinari, the CEO of Fom Industrie, expressed heartfelt thanks to the schools and praised the excellent spirit of collaboration between the parties, of which the "INDUSTRY 4 SCHOOL" project is a great example. Representing Universal Pack, Marketing Manager Alex Leardini conveyed his company's pride in being part of the initiative and investing in young talent right from the start. Also participating in the virtual event were Silvia Gelardi, head of ITIS in Urbino, Annalisa Roselli of ITIS in Rimini and Francesco De Nunzio of ISISS in Morciano. All three expressed the desire to carry on subscribing to this valuable complementary education scheme involving the area's leading industries.
Click HERE to read the full article.